There are so many things that went wrong when Krispy Kreme opened its first store in Ireland last week that I'm not quite sure what the suits were thinking…
First off, they had the genius idea to make it a 24-hour drive-thru. Now, while that may make sense if you're a McDonald's in Tennessee, they had to know that opening the first location in the entire country would garner a lot of around-the-clock traffic. To add on to that, anybody that watched the McGregor vs Nurmegomedov fight knows that the Irish aren't exactly the quietest bunch when they get excited (and probably other things if they're going to a 24-hour Krispy Kreme.) So, I can only assume people in the massive drive-thrlines got bored and started yelling the "Ole!" chant, because over the course of a week multiple noise complaints were filed by people who lived close to the doughnut shop. It reportedly got so bad, Krispy Kreme had to take to twitter to publicly apologize for the rowdy lines, and eventually shorten the store's hours to 6am – 11:30pm.
Another thing that makes me dumbfounded about the whole incident is that, as the head of one of the most popular doughnut chains in the world, you have to know how freakin' delicious they are. Even though we're used to having a Krispy Kreme or Dunkin' Donuts in nearly every town, that's one part of American culture that the Irish aren't used to. So of course there's going to be pandemonium when the store opens, which got so bad that neighborhoods were blocked off by the drive-thru.
Here's the tweet sent out after the debacle: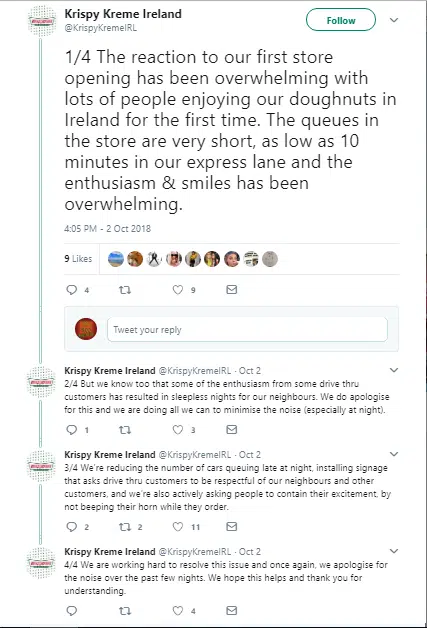 The whole situation got out of hand, and, if I know anything about Krispy Kreme, so will Ireland's now imminent obesity crisis…
AC