From calling Stone Sour "Nickelback Light" to fronting one of the most widely hated bands today, Chad Kroeger's become one of the most polarizing (and memeable) figures in rock. That's why I had to do a 5-take when I saw a campaign on Facebook to reunite Nirvana with Chad Kroeger as the lead.
The event, created by a user named Be Reet: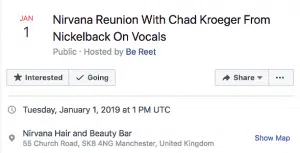 It's pretty obvious that this is just a bit of internet trolling (the location is a Nirvana Hair and Beauty Bar), but what worries me is that as of writing this the event has 1.3k people going and 3.4k interested. And, while most people are taking this as a joke, some people in the comments seem to actually want this to happen…
I mean, I want a Nirvana reunion to happen again someday, but maybe not headed by Avril Lavigne's ex…
Check out the event page here!
AC