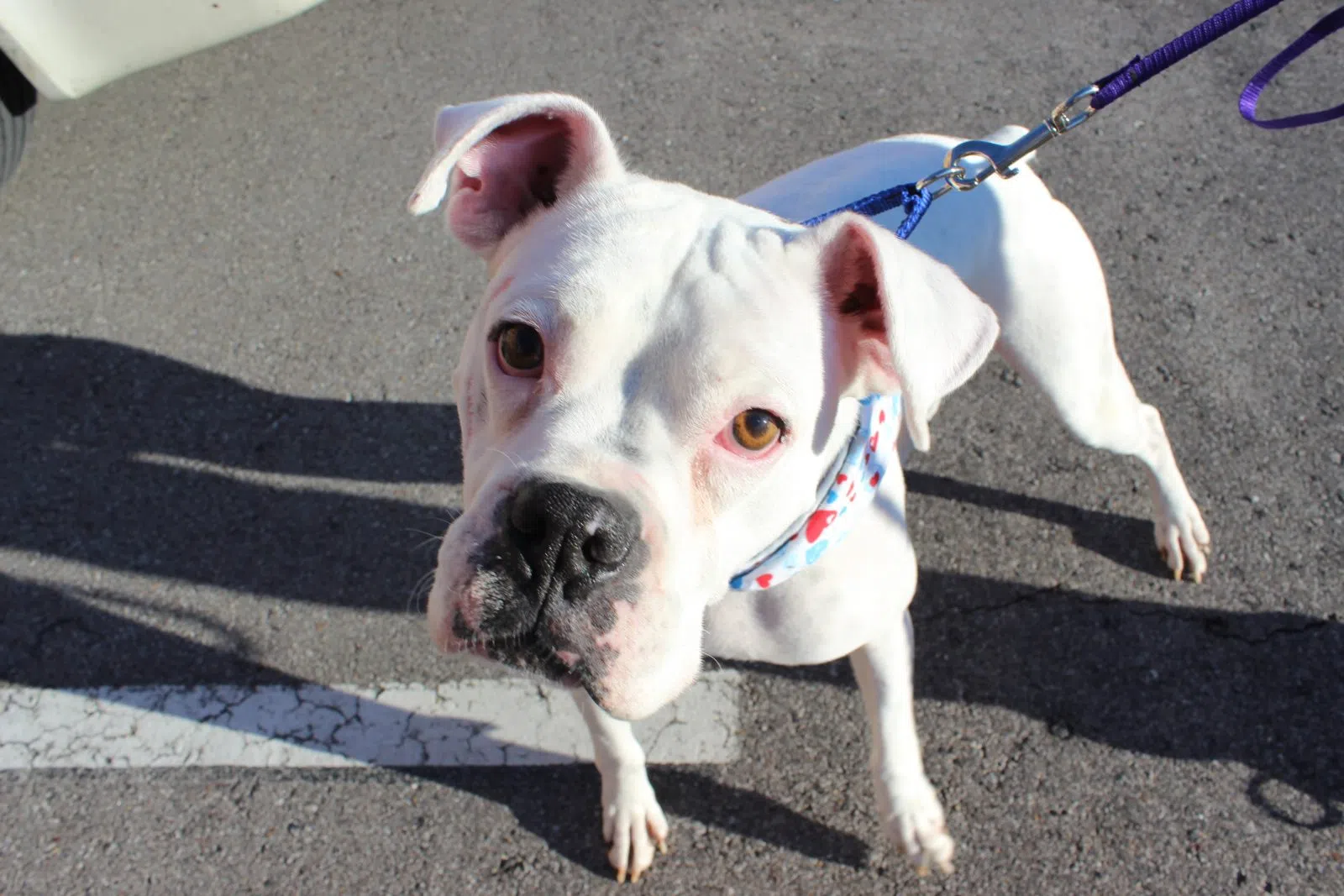 He's got them puppy dog eyes!!! This is Rilo. Despite his adorable face and lovable personality, he has many physical and emotional scars because of his past. The future looks bright for this pup, and he will soon be available for adoption from Operation Education Animal Rescue in Murfreesboro once he's fully healed.
Read more of his story from his GoFundMe page:
Rilo's sad Boxer face has a past that's unknown. His scars make us wonder what he's been through in life so far. We do know he was seen being thrown from a car in a rural area and attempts to find his original family were unsuccessful. His neglected body and lack of preventions from heartworm disease became evident when his heartworm test came back positive.

Unfortunately, this is a common occurrence in our rescue. Treatment is costly, and finding a foster home that is dedicated to their treatment is difficult. The multiple vet appointments and restrictions on exercise are a challenge to fit into anyone's schedule.

The past cannot be changed but the future looks bright for Rilo. He has started heartworm treatment, and will take doxycycline for 30 days before receiving two injections in his back 30 days apart. He will then be rechecked six months later to see if the treatment was successful. It's a time consuming process, but we are so excited to show him the love and care he lacked. Rilo is a most lovable dog, and there are many more out there just like him.

Our ultimate goal is to save more dogs like Rilo and provide heartworm preventatives to people in need. We have started a fundraiser for him and other dogs that are heartworm positive in our rescue. We have treated seven heartworm positive dogs in the last two years, and we would love to help more. The average cost start to finish ranges from $600-$1,000. We also do basic prevention for our dogs. Interceptor Plus (heartworm prevention) for a 50lbs-100lbs dog is $8.04 per month – that's $96.48 a year for just 1 dog in our rescue.

If you would like to make a difference in the lives of dogs like Rilo, please consider donating to Operation Education. All of our precious rescues need your loving heart to keep theirs healthy. We can't do this without your generous support, and we would greatly appreciate anything you can give.
---
See the importance of adopting? If it wasn't for animal rescue groups like Operation Education, Rilo couldn't be saved, and he wouldn't be in the much happier situation he is in now. Op Ed runs entirely on donations to benefit their animals in need like Rilo, and thanks to those donations, he will be healed, healthy, and ready for his forever home! To donate, visit Rilo's GoFundMe page, or visit OpEdAnimalRescue.com.
#AdoptDontShop
---
It's pretty heartwarming to know that approximately 3.2 million pets in animal shelters are adopted each year. But unfortunately, nearly 1.5 million animals are euthanized, according to ASPCA, and the biggest reason for this is because of the abundance of animals and lack of available space to keep them any longer, or their "time's up." But because of local animal shelters like Operation Education based out of Murfreesboro, we're teaming up to raise awareness of animals in the area looking for forever homes.
---