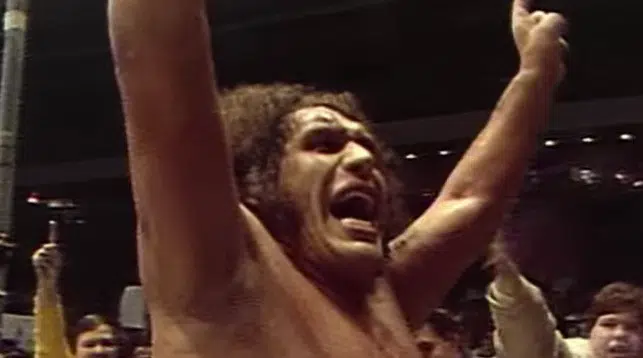 Ric Flair recently had a 30 for 30 documentary.  Andre needs something bigger than that-figuratively and literally.  7'4″ André René Roussimoff commanded the ring and even stole the big screen.  Coming in the spring of 2018, HBO will debut "Andre The Giant" about a man whose size and presence were almost supernatural.
Born May 19, 1946, in Grenoble in southeast France, Andre Rene Roussimoff made his mark on the world of wrestling as Andre the Giant, helping to define the WWF's identity with his overpowering presence and athleticism.
Already 6-foot-3 by the time he was 12, Roussimoff's size made him perfect for working on his father's farm. Before dropping out in the eighth grade, he would get driven to school by neighbor and avant-garde playwright Samuel Beckett because he couldn't fit on the bus. Roussimoff would sit in the back of Beckett's truck and the two would talk about cricket.
Andre was huge physically and had a huge personality, but also liked the quieter life. "People never seem to realize that I might get tired of being asked how tall I am or how much I weigh," said Andre. "So many questions. That's why I go to restaurants in the middle of the afternoon or late at night. I want to be polite, and to make a nice impression, but sometimes it is hard. I would give much money to be able to spend one day per week as a man of regular size. I would shop, and I would go to the cinema, and drive around in a sports car and walk down Fifth Avenue and stare at the other people for a change."
The short trailer is below as well as the earliest known footage of Andre in the ring.
photo courtesy of Bleacher Report WWE twitter @BR_WWE