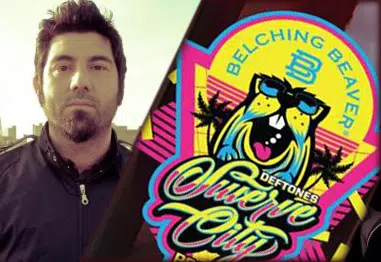 Good news to my fellow beer snobs and Deftones fans… for the second time, Deftones is releasing another beer!
This is their second release from Belching Beaver Brewery in Oceanside, CA. Back in October, they released Phantom Bride IPA, which the brewery describes it as "a blend of amarillo, citra, simcoe, and mosaic hops delicately balanced for the perfectly drinkable mix of citrus and hoppy goodness."
Belching Beaver teased on their Facebook page that they'll be working with the band with MORE beer, saying "…we are releasing four more limited brews with the band. Stay tuned!"
According to ABC Radio, one of the brews has just been named. I take it the band is a fan of the IPA's, because their newest beer is the Swerve City IPA. One announcement down, and three to go!
Who's in? I hear California is nice this time of year…