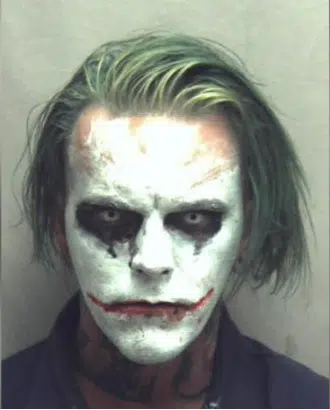 As a kid, I loved watching the old Batman and Justice League cartoons. Along with my love for the Dark Knight came an overpowering fear of Batman's arch nemesis, the Joker. With his endless arsenal of weapons and terrifying laugh, dude just creeped me the heck out!
Good thing I'm nowhere near Winchester, Virginia, where, on Friday afternoon, 31-year-old Jeremy Putman was charged with "wearing a mask in public." The full extent of his crime? Putman was walking down the street wearing a full Joker costume (complete with makeup and black cape) carrying a sword!
According to Virginia law, Putman's crime is a Class 6 Felony which can land you in jail for up to 5 years.
Virginia police want to use this incident to remind the public of the seriousness of the crime, but, honestly, if you think walking around town with face paint and a freakin' sword is a good idea, you might just consider staying inside… Play a good Batman video game or something…
AC