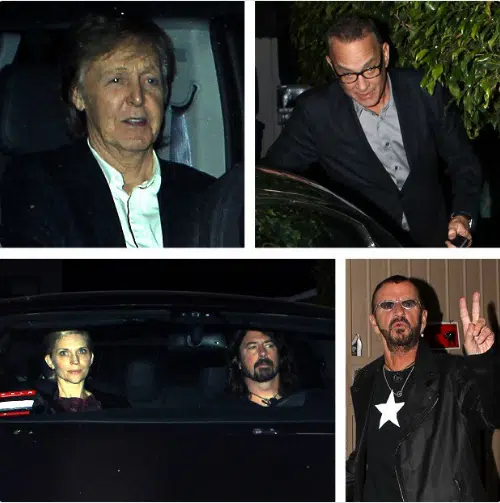 Alright, so my mind is racing with all the possibilities of what was going on here…
On Wednesday night, Paul McCartney, Ringo Starr, Dave Grohl, Joe Walsh, and Tom Hanks were seen having dinner together in Santa Monica at the Giorgio Baldi.
Obviously, they didn't hold a press conference after dinner to let everyone in on what they discussed, and they could very well have just been having a nice meal among friends, but the fanboy in me can't accept that this is a mere coincidence!
Here's what I'm hoping it was all about (and there is absolutely no evidence to support this); With the Foo's hinting at a new album in the works (their first release since the St. Cecilia EP in 2015), I think Dave wants to go for another documentary/album, similar to Sonic Highways or even Sound City. Maybe this time around, he's recruiting the help of Tom Hanks as director, and maybe there will be a feature on The Beatles and The Eagles?
But, fanboy giddiness aside, they could have just been having dinner…
Check out video of paparazzi from TMZ getting in on the action below!
AC