As you know, there have been a ton of bands, artists, authors, businesses, etc. posting about the passing of Prince yesterday. Of course, out of all of them, there's bound to be one that might offend somebody.
The internet getting offended my something? No…
Cheerios sent out this message via Twitter yesterday (4/21)…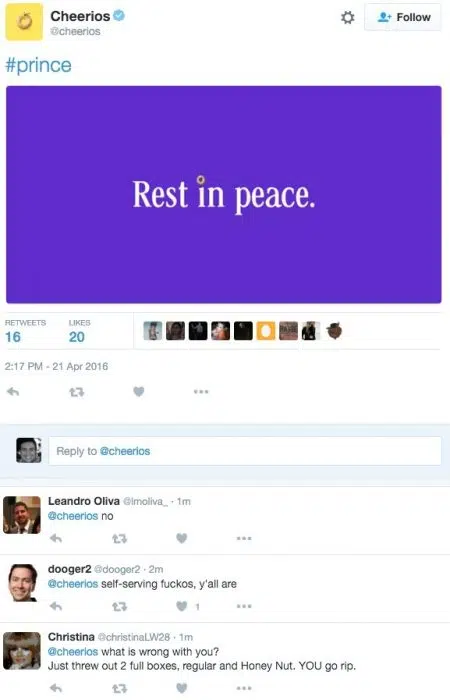 This tweet left Prince fans go from seeing purple to seeing red. The comments on it weren't pretty, and the tweet was quickly taken down. But luckily there's that Print Screen button that shows its proof.
Later, Cheerios posted, regarding the Tweet:
"As a Minnesota brand, Cheerios wanted to acknowledge the loss of a musical legend in our hometown. But we quickly decided that we didn't want the tweet to be misinterpreted, and removed it out of respect for Prince and those mourning."
Huffington Post has more of the story here.
Do you think this tweet from Cheerios about Prince was offensive?
Poll closed: Apr. 24, 2016 @ 11:59 PM