Nashville police responded to a shooting at the Carmike 8 Hickory Hollow theater in Antioch around 1:15pm today.  A 51 year old area resident with a gun, a hatchet, and pepper spray had apparently attacked people in the theater during a showing of 'Mad Max-Fury Road.'  Police shot the man dead after he fired at an officer.  The man had 2 backpacks that police are currently investigating. No one was seriously injured during the attack.
We'll post up more details as police release them.  The investigation is ongoing.
Update: This just posted by CNN-"Bomb squad preparing to destroy two backpacks."
Update: Attacker was 29-year-old Vincente David Montano.  Montano had previously spent time in mental health facilities:  Twice in 2004, and twice in 2007.
Update:  The gun that Montano had turned out to be an realistic-looking airsoft gun, not a real firearm.
Update: The backpacks did not contain real explosive devices.
Update: Montano's mother had not hear from her son since 2013.  It appears that Montano was homeless.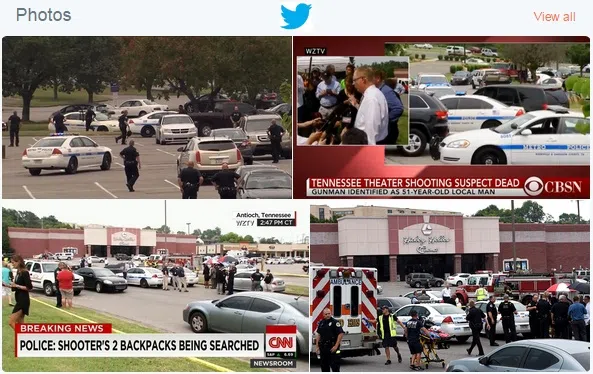 Poll
Will this latest attack in a theater keep you away from the movies?
Poll closed: Sep. 30, 2015 @ 12:00 AM