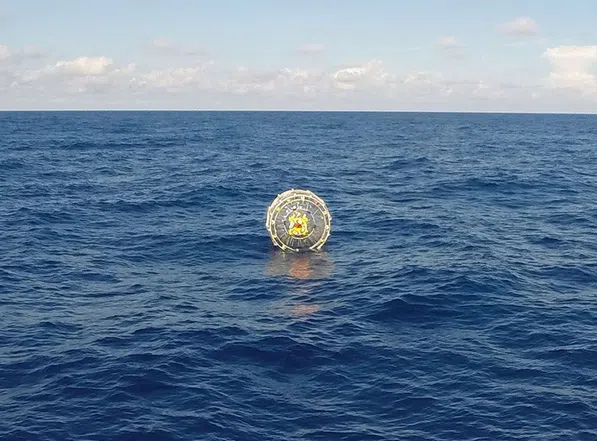 To passing boaters, he likely looked like a hamster in a ball, bobbing up and down in a blow-up bubble in the Atlantic Ocean en route to Bermuda — across the Devil's Sea.
Reza Baluchi was on a mission to trace the Bermuda Triangle — 1,000 miles to Bermuda, 1,000 miles to Puerto Rico and 1,000 miles back to his starting point in Florida — to raise money for needy children through his charity, Plant Unity, he said. But on Saturday, three days and 70 nautical miles into the voyage, the U.S. Coast Guard had to airlift the exhausted athlete from his floating sphere off the coast of St. Augustine, Fla.
The Coast Guard has not said what the rescue cost. But it used an HC-130 airplane, which costs about $20,000 per hour, and an MH-60 helicopter, which is $14,000 per hour.
Baluchi, 42, climbed inside the vessel on Wednesday with few belongings — protein bars, bottled water, a satellite phone as well as his green card and passport. He had planned to "run" from Florida to Bermuda inside this "hydro pod," an inflatable capsule made of plastic, 3mm thick. He would move at night and sleep in a built-in hammock during the day — as temperatures topped 120 degrees. He would fish when he got hungry.
The U.S. Coast Guard first located him on Thursday after someone called about a reportedly disoriented man in a bubble near the Miami coast asking how to get to Bermuda. Full story: http://www.washingtonpost.com/news/morning-mix/wp/2014/10/06/u-s-coast-guard-forced-to-rescue-man-in-bermuda-triangle-floating-bubble-stunt/
POST A SONG FOR TODAY'S 5@5!