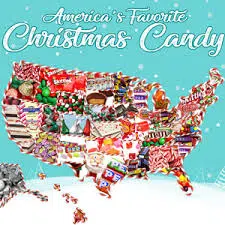 We all celebrate the season and it looks like we all celebrate it a little differently.  The good people at Candystore.com have put together a map that shows the favorite Christmas Candy by each state.  Some favorites are good calls, some are a little unique and some I didn't even know they existed!
Here's some local love:
Tennessee: M&M's
Kentucky: M&M's
Alabama: Reindeer Corn(couldn't get enough at Halloween?!)
Georgia:Candy Canes(tasty and fitting)
Louisiana: Pez(do they have to wait until Xmas to unwrap the dispenser?)
Iowa: M&M's(that's why I fit in so well down here)
North Dakota: Chocolate Santas(I'll be expecting Hayley to bring some back for the rest of us!)
Also, some interesting Candy stats:
  1.76 Billion candy canes are produced every year for the holiday season.
  Approximately 150 million chocolate Santas are produced annually.
  The largest candy cane in the world was made in Switzerland. It was 51 feet long.
  December 26th is National Candy Cane Day.
Check out the full article at