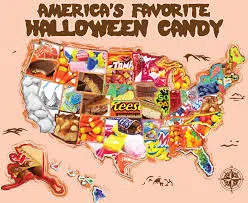 I'm filling in for Hayley tonight and I think I fell into her habits.  For some reason I ended up at Buzzfeed.com.  And no, I didn't take the " What Kind Of Pumpkin Are You" quiz…yes that's a real thing.  I did check out the favorite candy by each state  compiled by CandyStore.com  .  Surprisingly, A LOT of states love Candy Corn.  Tennessee chose more wisely-Tootsie Pops! Stock up on the sweet stuff or end up with egg on your house(do kids still do that?).
Other States Likes:
Kentucky-Tootsie Pops(copy cats)
Alabama-Candy Corn(Bless their hearts)
Arkansas- Jolly Ranchers(speaking my language!)
Mississippi- 3 Musketeers(the candy bar and movie are both cool)
North Carolina-M&M's(better be peanut or peanut butter or we gots a problem)
North Dakota-Hot Tamales(der spicy dontcha know)
Hawaii-Skittles(The Rainbow State likes tasting the rainbow….I get it)
Check out the full article below.