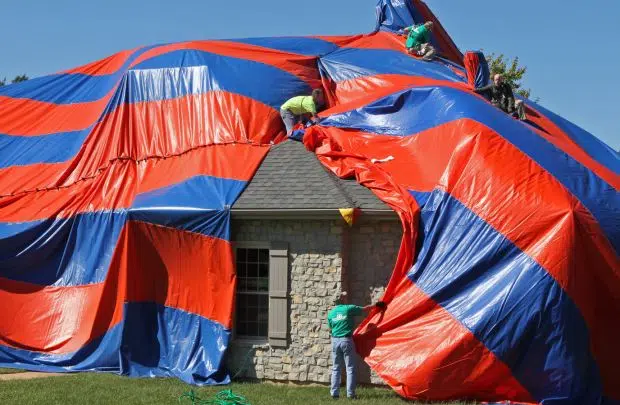 A home with prime views of the third and fourth holes at Whitmoor Country Club has been vacant for two years because of a creepy crawly problem.
The home was infested with between 4,500 and 6,000 brown recluse spiders, according to one estimate.
The previous homeowners abandoned the 2,400-square-foot atrium ranch after years of pesticide treatments couldn't curb the invasion.
The home went into foreclosure and hasn't sold, apparently because no one wanted to live with its history.
Blue-and-orange striped tarps covered the house this week as an exterminator blasted the spiders and eggs with 200 pounds of sulfuryl fluoride gas, pumped in at 67 degrees below zero.
The spider problem started in October 2007, shortly after Brian and Susan Trost bought the home at 84 Gillette Field Close, according to testimony at a civil trial. The Trosts had purchased the home, built in 1988, for $450,000.
Susan Trost testified she was walking through her new home, exploring it on her first day there, when she noticed a large, stringy web wrapped around one of the light fixtures.
It hadn't been there on the walk-through date.
Neither had the webs in the bar area in the basement. In the kitchen, she tugged on a piece of loose wallpaper, and a spider skittered behind it.
She thought the home probably just needed a thorough cleaning, so she got to work.
In the following days, she saw spiders and their webs every day. They were in the mini blinds, the air registers, the pantry ceiling, the fireplace. Their exoskeletons were falling from the can lights. Once when she was showering, she dodged a spider as it fell from the ceiling and washed down the drain.
A month after living in the home, her 4-year-old son screamed frantically from the basement, and Trost saw a spider, about the size of a half dollar, inches from his foot.
Instead of smashing it, Trost trapped it in a plastic bag and looked it up on the Internet. It was a brown recluse.
Trost testified she contacted a pest control company that came in on a weekly basis, spraying the interior and exterior and setting down sticky traps.
Since brown recluse spiders often live behind walls, she hired someone to come in and remove drywall so the exterminator could spray behind it. Full story: http://www.stltoday.com/news/local/crime-and-courts/extreme-case-of-brown-recluse-spiders-drives-owners-from-weldon/article_02e0dcb3-a772-5c47-84ce-ede4e21df346.html