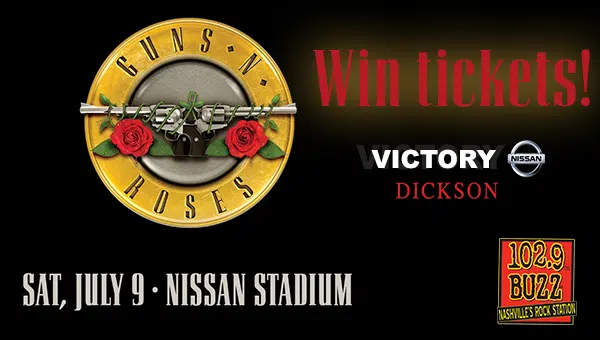 Don't have GNR tickets? We're teaming up with Victory Nissan of Dickson to get you into that show at Nissan Stadium on July 9th!
Stop by and visit the guys at Victory Nissan. While you're there, a container will be on display, every day from now through July 8th. In the container, there will be a combination of plastic army men (Guns) and plastic rose petals (Roses). Guess how many "guns" and "roses" are in the container. The listener with the closest guess of combined total items without going over will win tickets to see Guns N' Roses. *If two listeners guess the same winning number, those entries will be reentered in a drawing and chosen at random.
Once Zigz announces the winner, the number of "guns" and "roses" in the container will be reset for the next week's drawing. There will be a different number of items every week it's presented. Listeners are allowed to participate all three weeks, but are only allowed to win one pair of tickets. The drawing for each pair of tickets will be held on June 24th, July 1st, and July 8th at 6:30pm.
More info on the show on our Concerts calendar.