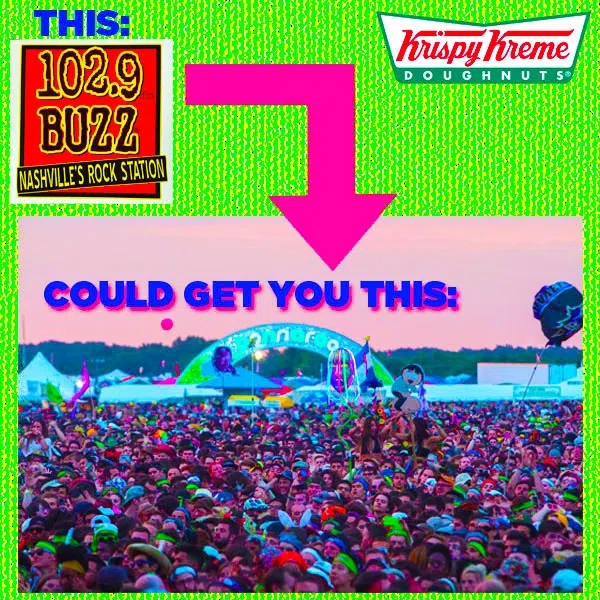 On Sunday May 24th, the 102.9 The Buzz Street team will be out between 1pm-3pm looking for a vehicle with a Buzz Bumper Sticker.  One lucky driver sporting a Buzz sticker will be rewarded with a weekend Pass to The Bonnaroo Music and Arts Festival June 11th-14th.
Don't have a Buzz bumper sticker?  No problem!  Stop into any one of the following KRISPY KREME locations, find the Bumpers For Bonnaroo display,  and get one for free.
DOWNTOWN – 2103 Elliston Place, Nashville, TN 37203
THOMPSON LN/NOLENSVILLE -408 Thompson Lane, Nashville, TN 37211
MADISON – 1901 Gallatin Pike N, Madison, TN 37115
BRENTWOOD – 1733 Mallory Lane, Brentwood, TN 37027
HENDERSONVILLE – 218 E. Main St, Hendersonville, TN 37075
SMYRNA – 434 Sam Ridley Pkwy, Smyna, TN 37167
CLARKSVILLE – 2147 Lowes Dr, Clarksville TN 37040
Hot glazed, up to 12 hours a day!
Try the new Campfire Doughnuts: Smores and Oreo dirt cake…for a limited time!
New frozen lattes!