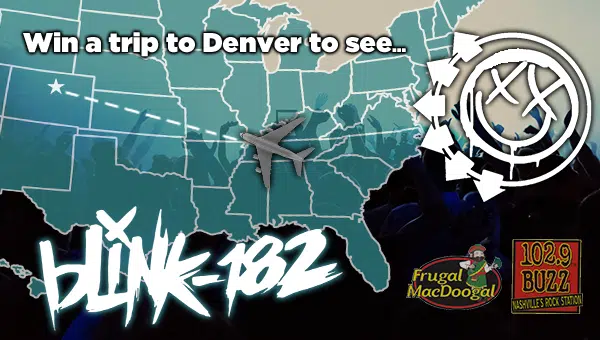 See 'em Here, See 'em There!
The Buzz and Frugal MacDoogal are hooking you up with a pair of tickets for one listener and a guest to see Blink 182, 'Here' in Nashville on Monday, August 8th at Ascend Amphitheater, and 'There' in Denver Colorado on Tuesday, September 13th!
On Thursday, August 4th Zigz will broadcast live from 3-7 at Frugal MacDoogal Wine & Liquor Warehouse (701 Division Street) where 5 lucky fans and a guest will see the sold-out Blink 182 show on August 8th in Nashville. One pair of tickets will be given away every 45 minutes.
Winners will also win access to Blink 182's Soundcheck Party before the show at Ascend Amphitheater and qualify to win a pair of Meet & Greet passes for the Nashville show and the trip to Denver.
Hint: The longer you stay at Frugal MacDoogal, the better your chances of winning! (i.e. If you sign up for the first drawing at 3:45 and don't win, you'll be able to enter again for a second time with an extra entry.)
MUST BE PRESENT TO WIN. MUST BE 21 + TO ENTER AND WIN.