If you're a fan of Dan Harmon and Justin Roiland's hit cartoon Rick and Morty, you probably already know exactly what happened today. If the title of this post had you scratching your head, strap in for a weird trip!
For those who don't know, Rick and Morty is a cartoon loosely parodying Doc and Marty from Back to the Future, in which a drunken scientist and his grandson go on inter-dimensional adventures filled with existential plots and some of the most quotable phrases in TV history (Wub-a-lub-a-dub-dub!) The mix of theoretical science-based concepts and meme-worthy moments has allowed the show to gain one of the most devoted fan bases that hangs on to every reference.
So, when Rick references a certain Szechuan sauce during the 3rd season pilot (released on April Fool's Day), fans took notice. It was meant as a harmless reference to a limited edition sauce that McDonald's put out for the release of Disney's Mulan, and hasn't been made since. But, as you can see in the clip below, Justin Roiland knows how to kick things up a gear…
Rick's rant fired up the fans, and soon everyone was taking to Twitter and Facebook to bring back the beloved sauce. McDonald's finally took notice, and today it was set to sell the sauce at certain locations around the country.
But, it really backfired…
The problem is, McDonald's reportedly only sent around 20 packets to each of the participating locations, which didn't satisfy the long lines of Rick and Morty fans, some of which lined up on Friday night just to get their hands on the coveted sauce! And, at some locations, the packets never arrived, leaving confused employees and ticked off fans.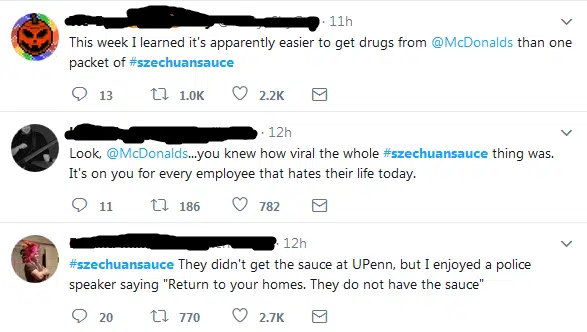 I've gotta say, although this one may have really backfired for McDonald's, it was still a fun day for Rick and Morty fans, and it's nice to see that a big corporation like McDonald's can still get in on the gag.
AC